How to enquire into the nature of the human soul?
Sounds difficult right? There is lots out there to help. The world is changing and so is the human soul. The human soul is experiencing more vibrations (electronic devices that were absent as little as 15 years ago); it is exposed to more information than ever before (web and media); and the soul population of this planet is the greatest it has been in human history – now over 7 billion!!!!!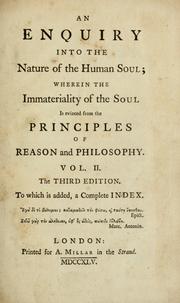 With all this energy zooming around do you think it is harder than ever to be grounded and true to Self?
My curiosity was piqued. Through online searching I came across this antique book that I would like to share with you
An Enquiry into the Nature of the Human Soul
wherein the immateriality of the soul is evinced from the principles of reason and philosophy.
First published by A. Millar around 1733-45 the author is Andrew Baxter.
Do you want to discover the nature of your soul for yourself? I would love to know what are you doing?

I invite your thoughts, comments and Tweets.